If you're struggling with yellowed or stained teeth, you are not alone! Many people now turn to home whitening kits to return that dazzling shine to their pearly whites. With so many products on the market, though, how do you choose the right one for you?
We've got you covered! Check out our reviews of the top five tooth whitening brands, to learn their pros and cons and make an informed decision!
Whitening 101
When comparing teeth whitening options, it helps to understand a bit about how each of them work. There are a few basic techniques that remove stains from tooth enamel and enhance its bright white color:
Peroxides
You are probably already familiar with hydrogen peroxide – that medicine cabinet antiseptic you use to clean minor cuts and scrapes. Hydrogen peroxide can remove stains in the same way it kills germs, by breaking down compounds that cause discoloration. This process, known as oxidation, is also how bleach turns clothes white. Dentists frequently use carbamide peroxide, a mix of hydrogen peroxide and urea, which is easier to apply to teeth.
Essentially, the higher the concentration of peroxide, the faster and more robust the results will be. Whiteners at the dentist's office are stronger than those for home use, but over-the-counter products still come in several strengths. Not every supplier readily reveals their products' strengths, however, so beware ones where you don't know what you're getting.
Abrasives
A long-used and inexpensive method, many whitening toothpastes include abrasive ingredients like charcoal or baking soda. These physically scrape off surface stains while you brush your teeth. However, too much abrasion over time can wear down your enamel as well, leaving your teeth prone to further staining.
Blue light
If you've ever had more than a routine cleaning done at the dentist, you're likely familiar with blue light treatment. When they've finished filling a cavity, adding sealant, or attaching braces, they help the resin set by shining a blue light onto it. These same blue LED lights can also enhance the oxidation process, making whitening with peroxides more effective.
1.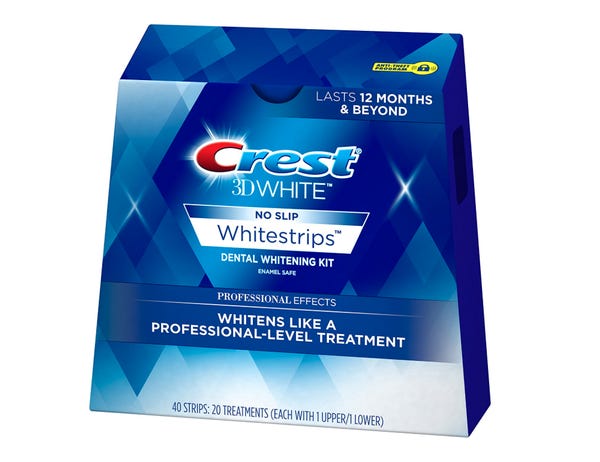 Crest is one of the most well-known oral healthcare brands. They sell several ADA (American Dental Association)-accepted whitening products, with a price tag that comes with name recognition.
Products available:Kits of whitening strips for use with their blue LED light device. Accessories include toothpastes and mouthwashes for whitening support.
Strength:Company does not specify.
Price range: $35 for a basic pack of strips to $75 for a premium kit including a blue light device.
Unique offerings: One variety of strips contains charcoal.
Whitening time: Variable session and course durations, from one hour per day for one week to 30 minutes per day for two weeks.
How long results last: Whitening results are reported to last six months to a year depending on the product type.
---
2.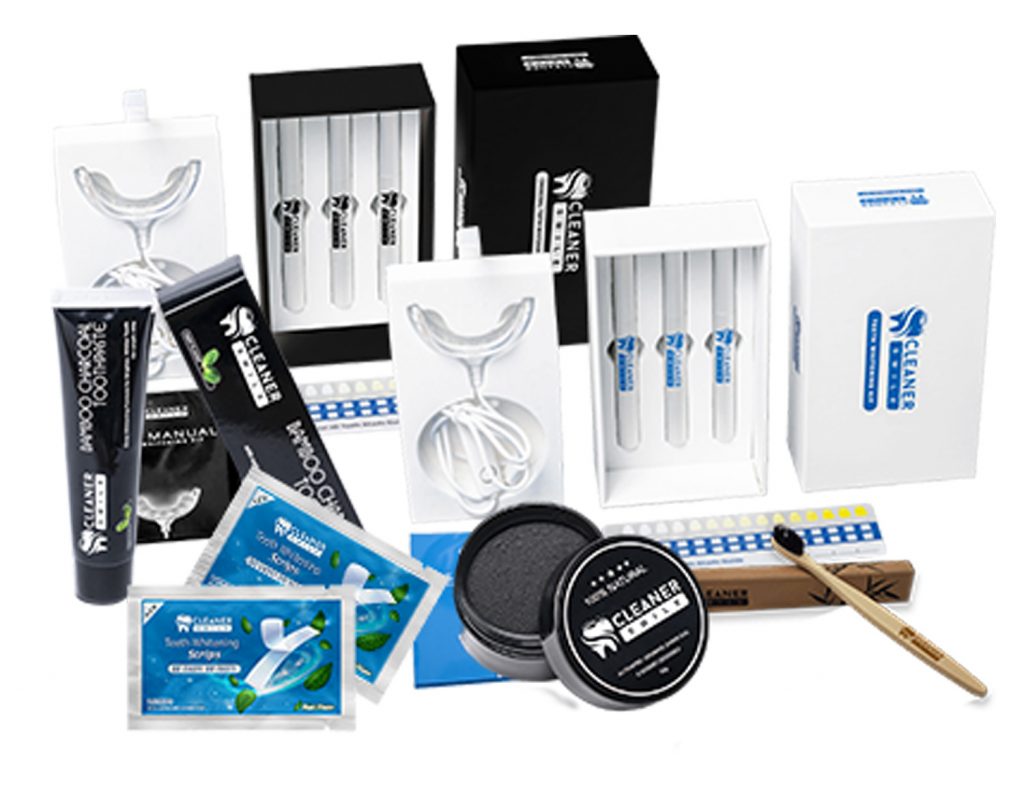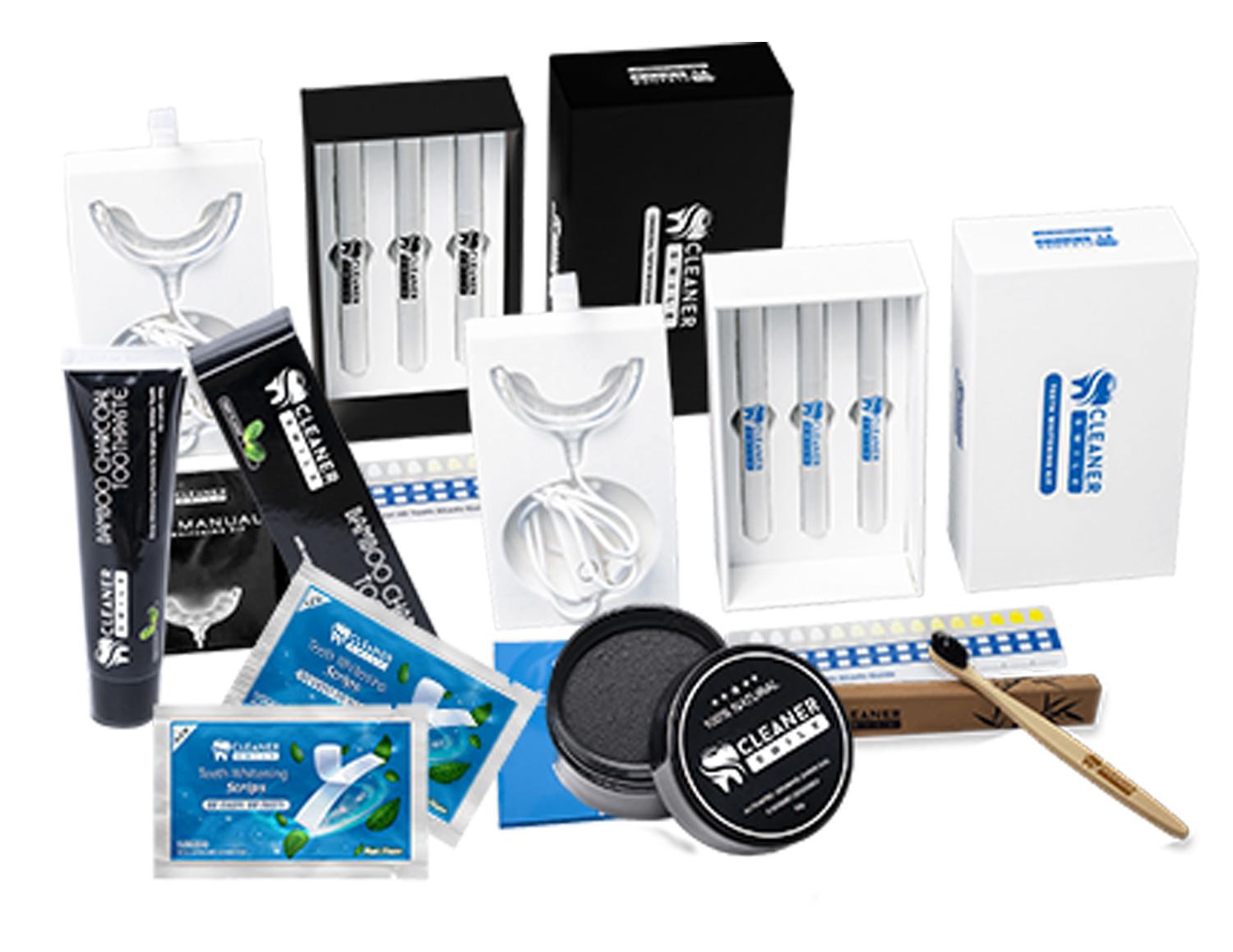 Cleaner Smile brings refillable and reusable whitening devices to the table, providing options that are both sustainable and affordable. Their bamboo accessories are a bonus to conscientious people seeking plastic-free alternatives, while the prices across the board are among the lowest you can find for each product category.
Products available:Kits with a rechargeable blue LED mouthpiece and tubes of whitening gel filler, or packs of whitening strips for lighter regimens. Accessories include charcoal toothpaste and powder.
Strength:35% – 44% carbamide peroxide; charcoal gel is peroxide-free.
Price range: $34.99 – $44.99 for kits or $9.99 – $19.99 for 5-15 strips. The blue LED mouthpiece is available on its own for $24.99, and gel refills run $19.99 – $24.99
Unique offerings: One variety of strips contains charcoal.
Whitening time: Quick results noticeable in as few as five days of daily 15-30 minute sessions; full regimens for deeper whitening last for six months of weekly sessions.
How long results last: Whitening results are reported to last six months to a year depending on the product type.
---
3.

Rather than hydrogen peroxide, Hi Smile uses phthalimidoperoxycaproic acid (PAP) as a whitening agent. Though advertised as peroxide-free, PAP still affects teeth in the same manner by oxidizing the stains in the tooth's enamel.
Products available:Kits with LED mouthpiece and gel fills; gel refills for use with mouthpiece; portable gel pen for use without mouthpiece. Accessories include toothpaste containing charcoal and other whitening support ingredients.
Strength:Company does not specify.
Price range: $59.99 for a full kit and $23.99 for gel refills, or $23.99 for a gel pen.
Unique offerings: Alternative oxidizing agent in gels; pen can apply gel directly to teeth without need for mouthpiece
Whitening time: Ten minutes per day for six days.
How long results last: Results from one kit use last 3-4 weeks.
---
4.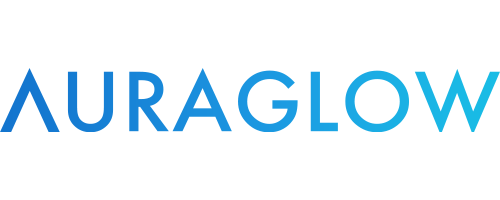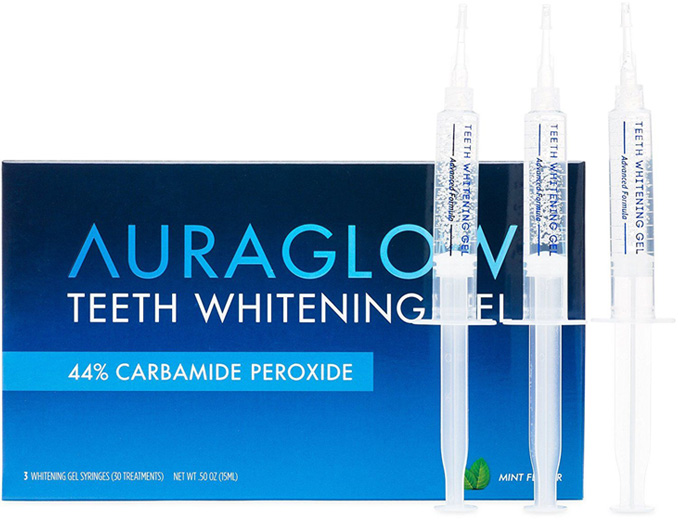 AuraGlow sells a few different systems for delivering their tooth-whitening gels, giving customers options based on their preferences.
Products available:Kits of whitening gel with either LED mouthpiece or moldable dental tray; whitening gel pen.
Strength:35% – 44% carbamide peroxide
Price range: Costs run from $26.99 for a gel pen to $59.99 for a kit; gel refills are $29.99 to $34.99 depending on strength.
Unique offerings: Boil-and-mold dental trays you can custom shape to your own teeth (without blue light).
Whitening time: Results are said to be first noticeable after one treatment. Full regimens vary depending on desired whitening from one week to 30 days of daily 30-minute sessions.
How long results last: Depending on the product, results are said to last 1-3 months.
---
5.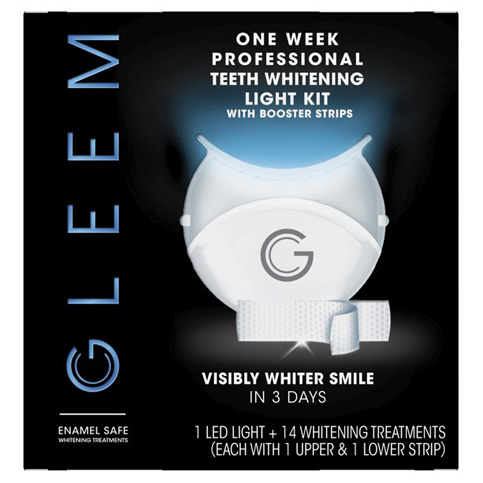 Gleem is mainly an electric toothbrush company, but they are now starting to foray into the whitening field. Their whitening product options are currently limited.
Products available:Kits with whitening strips and blue LED mouthpiece; touch-up whitening gel pen; charcoal serum optional additive for whitening strips.
Strength:Company does not specify.
Price range: Kits including 14 sets of strips plus LED mouthpiece at cost of $39.99. 10-packs of whitening strips plus tube of charcoal serum (no lighted mouthpiece) cost $34.99, while gel pens are $19.99 each.
Unique offerings: Customers may return used LED mouthpieces and their packaging for recycling in exchange for rewards points.
Whitening time: Initial results said to be noticeable after three days. Full regimen lasts for one week of daily hour-long sessions.
How long results last: Whitening results from use of one kit (seven initial sessions plus seven booster sessions) are said to last as long as one year.
---
The Bottom Line on Teeth Whitening
Anyone who wants to brighten their smile has plenty of choices depending on their desired budget and schedule, as well as any tooth sensitivities and even ethical beliefs they may have. As a great all-around brand, however, we would recommend Cleaner Smile for their low prices, renewable and reusable benefits, and long-lasting effects.
YOUR SOURCE FOR THE HEALTHIEST NEWS!!!
We provide you with all information and breaking news to help you live a healthy life.
Resources
Carey CM. Tooth whitening: what we now know. J Evid Based Dent Pract. 2014;14 Suppl:70-76.
Yoshino F, Yoshida A. Effects of blue-light irradiation during dental treatment. Jpn Dent Sci Rev. 2018;54(4):160-168.
Bizhang M, Domin J, Danesh G, Zimmer S. Effectiveness of a new non-hydrogen peroxide bleaching agent after single use – a double-blind placebo-controlled short-term study. J Appl Oral Sci. 2017;25(5):575-584.